Perfectly complementing this setting is the centerpiece, created by the interior designer, which is very textural with orchids, pheasant feathers, and a mixture of natural dried materials. The master bedroom also reflects the textural nature of the decor. The wall treatment is a faux finish which replicates grasscloth. Amazingly authentic looking, it is very mellow and warm with an array of golden wheat tones.

The bed is spectacular. Oversized, it is a Thai poster bed with carved reeded posts, flamed finials, and ball and claw feet. The side panel is woven bamboo. The bedspread is a textured silk accented with pillows in an African mud cloth pattern. The marble-topped nightstands on either side of the bed are quite large and resemble bachelor chests more than nightstands. Metal pulls are a burnished silver with heavy texture and a golden silver look which complements the wood finish of the stands.

Atop each one is an overscaled, 37"-tall Etruscan urn lamp. The bases are ceramic but have a very textured antique finish which gives the appearance that they just recently were discovered in the ruins. Alongside the wall to the side of the bed is an Indonesian vest of armor. Handmade of bone, it actually was worn as protection. Instead of, say, hanging a piece of art on --- the wall, it seemed much more interesting to display

this fascinating artifact on a stand. Also adding visual interest are two cranes gracefully sculpted in bronze. At the opposite end of the retreat are two guest bedrooms. The one shown has again a faux finish wall treatment but this one is a textured striate which resembles string cloth. Carved masks from the Ivory Coast of Africa hang on the wall.

The bed features a custom upholstered headboard in a textured, nubby fabric while pillows are a beautiful woven silk again with the African textile look. The nightstands are a combination of honey- colored wood and woven rattan.

On top are Moroccan-flavored lamps with ornate carvings and string shades. In keeping with the overall flavor, there is a chair with a woven seagrass back, while islandy plantation shutters accent the windows. Throughout the residence, ceilings are 10 feet high, providing a comfortable, human-scale feel. The interesting textures, natural fabrics, and colors make this an easy environment in which to live while the mix of pieces with the bits of history and interesting artifacts add layers of interest to the decor.

In fact, it is worth mentioning that the client was so pleased with the outcome of this project that he immediately commissioned Clay Stephens to create the interior design of his New York City residence. We know it will be spectacular - it is "in progress" and we hope to bring it to you in a future edition.
Pied-A-Terre
This article and images appear in the
semiannual edition of Open House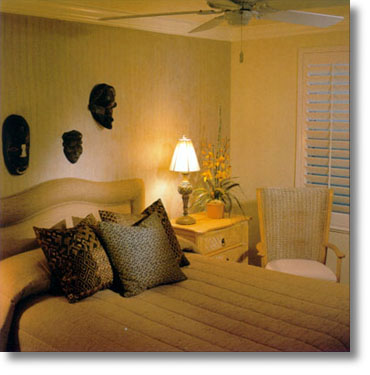 Adding to the internatinal flavor of the guest room decor
are carved masks on the wall from the Ivory Coast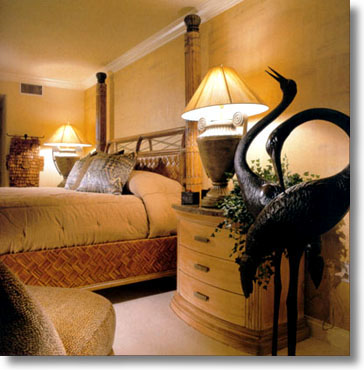 The master bedroom is very Polynesian in flavor. The bed is a grand,
Thai poster with rattan posts, flamed finials, and ball-and-claw feet